The Development of HIA Framework for Philippines (Poster Infographic)
---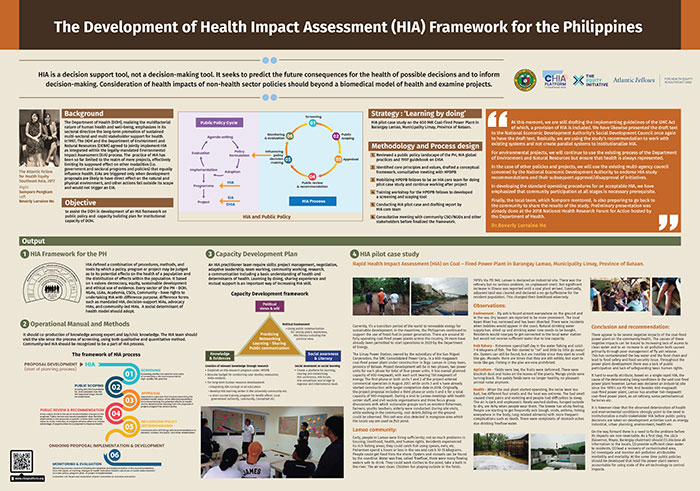 HIA is a decision support tool, not a decision-making tool. It seeks to predict the future consequences for the health of possible decisions and to inform decision-making. Consideration of health impacts of non-health sector policies should beyond a biomedical model of health and examine projects.
---
Background
The Department of Health (DOH), realizing the multifactorial nature of human health and well-being, emphasizes in its sectoral direction the long-term promotion of sustained multi-sectoral and multi stakeholder support for health. In1997, The DOH and the Department of Environment and Natural Resources (DENR) agreed to jointly implement HIAas integrated within the legally-mandated Environmental Impact Assessment (EIA) process. The practice of HIA has been so far limited to the realm of mere projects, effectively limiting its supposed effect on other modalities (i.e. government and sectoral programs and policies) that equally influence health. EIAs are triggered only when development proposals are likely to have direct effect on the natural and physical environment, and other actions fall outside its scope and would not trigger an EIA.
Objective
to assist the DOH in development of an HIA framework on public policy and capacity building plan for institutional capacity of DOH.
Strategy : 'Learning by doing'
HIA pilot case study on the 600 MW Coal-Fired Power Plant in Barangay Lamao, Municipality Limay, Province of Bataan.
Methodology and Process design
Reviewed a public policy landscape of the PH, HIA globalpractices and 1997 guidebook on EHIA
Identified core principles and values, drafted a conceptualframework, consultative meeting with HPDPB
Mobilizing HPDPB fellows to be an HIA core team for doingpilot case study and continue working after project
Training workshop for the HPDPB fellows to developeda screening and scoping tool
Conducting HIA pilot case and drafting report byHIA core team
Consultative meeting with community CSO/NGOs and otherstakeholders before finalized the framework.